Discover more from Collective World
We connect and cheerlead thoughtful and poetic creatives.
Over 20,000 subscribers
Everything You Need To Know About Writing The Perfect Thriller, According To Author Holly Riordan
'Instead of trying too hard to cater to what you believe other people want to read, write the type of stories that you wish were out there.'
Welcome to the Collective World Careers Newsletter. Collective World is a one-of-a-kind creative network powered by the minds and voices behind The Thought & Expression Company. We're so glad you're here.
Today we're talking to Holly Riordan, prolific writer and author of Severe(d): A Creepy Poetry Collection, Forget Her, and her newest release, The Guilty Twin. In honor of Halloween season, we asked Holly about what makes the perfect thriller—and what other writers should do if they're interested in trying out the genre.
---
Let's start with this: Can you give us a brief rundown of your career and how it's led to your move into fiction?
I actually started out writing fan fiction in high school for shows like LOST and Sherlock, then moved onto writing original short stories. But since it's hard to make a living off of fiction, when I entered college, I began freelancing for a variety of different websites where I wrote relationship and lifestyle content. Although penning essays and articles has grown into my career, I've never stopped working on short stories and novels on the side. 
How do you personally come up with story ideas, such as the one for The Guilty Twin?
My ideas come from all sorts of random places that are hard to pinpoint, but this story in particular was inspired by the time I spent working at a movie theater, which is where the majority of The Guilty Twin takes place. With so many dark rooms and hidden corners, I always thought it would be a fun location to get trapped in a thriller. 
Writing a thriller is very different from writing, say, a rom com. Is there anything specific that you think writers should keep in mind if they choose to cross over into this genre?
No matter what type of book you choose to write, you need to read widely in that genre. That way, you'll learn what audiences expect when reading that genre, and you can pick up on what types of tropes, red herrings, and character arcs you personally like and dislike. It's also important to make sure you're reading modern books. As much as I adore Agatha Christie, her writing style is different than the thriller writers that are popular today, so it helps to read a mix of classic books in your genre and modern ones. 
What are your tips for building suspense with writing?
To me, pacing is one of the most important aspects of a thriller. You want to create a constant sense of tension and danger that keeps your reader flipping the pages — and you can do this by having smaller mysteries within your main mystery to keep your reader asking questions. Also, use your atmosphere to your advantage! Even if there's not too much action in a chapter, you can have your character feel a sense of dread, be jumpy when they hear a noise, etc. in order to keep the reader feeling tense.
In your opinion, what are the elements of a perfect plot twist?
There are so many different ways to pull off a perfect twist, but unreliable narration is my personal favorite. (I do have a Gone Girl tattoo). So I would suggest hiding secrets from the reader. Don't let them know everything about your character and their past in the beginning of the manuscript, even if you're telling the story from their point of view. Tease the reader and keep the mystery alive.
Do you personally have any pieces of media that you attribute as inspiration for your books? Are there any that you would suggest writers read/watch if they're wanting an example of what makes a good thriller?
Writers like Gillian Flynn, Ruth Ware, Lucy Foley and Riley Sager inspire me to create art as twisty and unexpected as theirs. But when it comes to craft advice, Alexa Donne is a thriller author with a popular YouTuber channel, and her advice on plotting, thriller beats, and twists has been incredibly valuable. I highly suggest checking it out!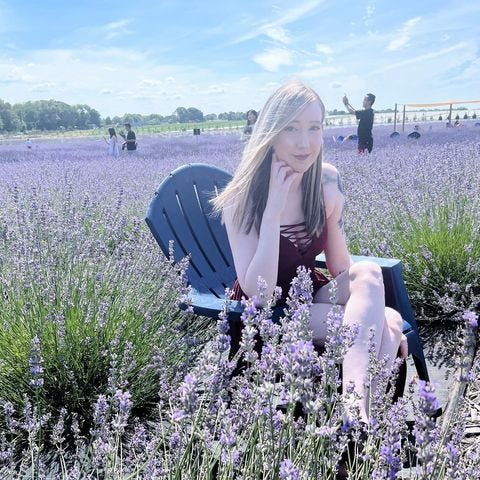 Thrillers have slowly become such a popular genre, especially with the true crime boom. What do you think are the best ways a writer can set their story apart from the others?
Instead of trying too hard to cater to what you believe other people want to read, write the type of stories that you wish were out there. I wrote The Guilty Twin because I wanted to read about more characters like me (bisexual women/women with OCD). The Guilty Twin is a thriller, but it also has a sapphic love story at the heart of it and delves into the importance of mental health.
As a final note: Do you have any advice for writers who are hoping to publish a book under this genre? Or any advice for writers in general?
Keep going, even when you're unsure whether you'll succeed. As a writer, you're going to face rejection. You're going to hate your first drafts. You're going to consider giving up, whether it's for a few seconds or weeks at a time. But if this is what you love doing, you need to keep going. And remember to have fun. Remember you're doing this because you enjoy the process. 
---
For more from Holly, check out her work on Instagram, Shop Catalog, Collective World, and Thought Catalog.
Thanks for reading Collective World 🤍 Subscribe for free to receive new posts and support our work.